Pangandamans React
Personally, I felt rage when I saw the kid on TV crying. A first year high school student mauled by a town mayor, son of a Cabinet official. Grrrr! The boy's face was badly bruised. To give you an idea how bad it was, when I saw his face on TV, I sort of appreciated what Vicki Belo did to her own.
Have you heard the news? The Pangandamans are reportedly filing a libel case against the victims. Insane! You did something bad. You become the subject of negative news. And then you file a libel case? Who do you think you are… the First Gentleman?!
Agrarian Reform Secretary Nasser Pangandaman Sr. apologized for the mauling incident at a golf course last Friday involving his son, Nasser Jr – mayor of Masiu, Lanao Del Sur. However, Pangandaman insisted "hindi kagustuhan ng bawat isa ito." Wow. Are you telling us that while your son and his armed goons were attacking the boy, they were shouting, "Promise! Hindi namin 'to gusto! Labag ito sa aming kalooban! Ayaw naming gawin 'to!" Try again Mr. Secretary.
Didn't you notice? Agrarian Reform Secretary Nasser Pangandaman Sr. is all over the news – TV, radio, print, and the Internet – explaining, defending, and apologizing for his son's despicable act. Here's an appeal to our journalists: could someone please verify rumors that Nasser Jr was actually mute?
Agrarian Reform Secretary Nasser Pangandaman Sr. told the press, "Humihingi ako ng paumanhin sa nangyari. Hindi ko rin gusto ang nangyari." When Sen. Richard Gordon heard this, he said, "Parang narinig ko na 'yan ah… sa book launching ni JDV?"
Hopeful Pinoys
The latest Social Weather Stations survey showed that 9 of 10 Filipinos are entering the New Year with hope rather than fear… unless of course they're in a golf course with the Pangandamans.
Hopeful Pinoys II
In the latest SWS survey, the respondents were asked, "Ang darating na taon ba ay inyong sasalubungin ng may pag-asa o pangamba?" Many respondents answered: "Depende. Sa bahay o sa golf course?"
Manny's Next Opponent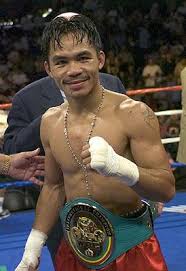 Latest reports say Puerto Rican boxer Miguel Cotto may be next in line for Manny Pacquiao. When Nasser Pangandaman Jr heard this, he said, "I think Cotto is too big for Manny. Does Cotto have a brother in first year high school?"
In Other News…
President Arroyo, First Gentleman Mike Arroyo and the entire First Family with some congressmen-friends went spelunking in Sagada, Ifugao, Mountain Province. Reports say they all enjoyed the caves… which was not really surprising since they're used to that kind of environment. You know… darkness.
Personal
IT HAS BEEN A great year for me and for this blog. "The Professional Heckler" got recognized by the Philippine Blog Awards and continues to get noticed by more and more people in cyberspace. Wikipilipinas has also named this blog as one of the year's… hmmm, basahin n'yo nga lang.
Thank you so much for making all these possible. I appreciate it. I admit – I've written some mean and nasty posts that may have offended some people. But I won't apologize yet. Not until I have become an ex-president.
Again, maraming, maraming salamat sa lahat (I hope Brian Gorrell understands this one)! Have a safe and lucky New Year!
Starting today, I'll have an online poll. Cast your vote now. It's on the right side of your screen.
Lastly, do you believe in astrology? Here's what in store for you in 2009, the Year of the Ox.
____________________
Luck is a dividend of sweat. The more you sweat, the luckier you get.
~Ray Kroc